High-performance sedans like the 2019 Genesis G70 are the epitome of capability, style and luxury. While we are proud to offer a wide inventory of new sedans at our Orlando, FL Genesis dealership, we do much more than just sell vehicles. We also offer high-end service to keep your car's engine in premium condition. If you're in the Orlando-Kissimmee area and you're looking for expert engine service for your Genesis sedan, bring it in to Universal Genesis.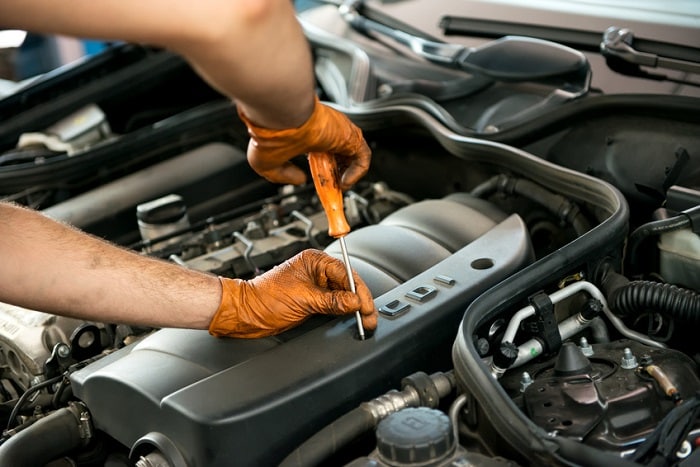 Engine Wear 
If you're not sure how engine wear effects your 2019 Genesis G80 luxury sedan, the technicians at our Orlando-area Genesis dealership can give you the help you need.
Types of Engine Wear:
In general, there are four types of engine wear to know about. The first is called "abrasive wear", and it occurs when outside contaminants get into the engine, scouring the metal parts. "Corrosive wear" or "chemical wear" happens when chemicals "attack" metal components like the cylinder wall. You're more likely to see this kind of wear in vehicles that are used seasonally or infrequently. Next is "adhesive wear", which happens due to repeated metal-to-metal contact. This condition is generally caused by high loads, high speeds, or extreme temperatures. Finally, "fatigue wear" happens when lubricated surfaces like rolling bearings experience frequent stress.
Why Service at Universal Genesis
In order to keep your 2019 Genesis G90 sedan in prime condition, it's important to bring it in for regular maintenance. Using high-quality air and cabin filters will go a long way toward reducing the impacts of engine wear, too.
Reasons to Service with Us:
Factory-Trained Technicians
Quality, factor-made parts
Complimentary scheduled maintenance
Complimentary service valet
When you bring your luxury sedan into our service center, you can feel confident knowing that experienced, factory-trained technicians are working on it. We also offer complimentary scheduled maintenance and complimentary service valet. Be sure to check out our online Vehicle Maintenance Checklist so you know exactly when to bring your Genesis sedan in for a service or parts replacement. When it's time, you can go online to schedule service or call us at 888-891-8986.
If you're looking to buy or lease a new Genesis luxury sedan, we invite you to come in to Universal Genesis for a test drive. We're located at 12801 S. Orange Blossom Trail, Orlando, FL. You can always call 877-250-7468 to schedule an appointment. A member of our sales staff will be happy to help you find the right Genesis vehicle for your needs.